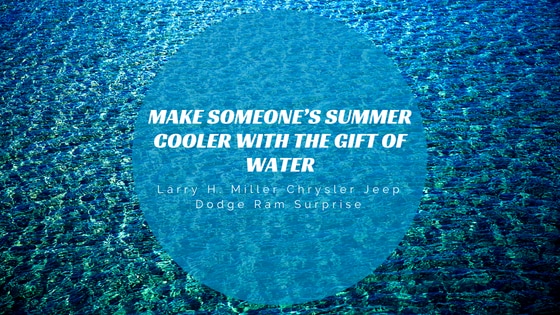 Here in Southern Arizona, we see temperatures over 100 degrees on a regular basis—yikes! Imagine having to endure those blazing temperature without the lifesaving and sustaining water you need. Unfortunately, many people are in that position and frequently must try to live without proper hydration. However, this is where you can really get involved. Here are a few ways to help those in need in our community have a much cooler summer.
Donate water to the Salvation Army. The Salvation Army does much more than collect donations outside grocery stores during the holiday season. Their vital work includes feeding and clothing people in need throughout communities across the country. You can bring them bottled water or monetary donations at several places in Phoenix, including a few of our Larry H. Miller dealerships in Peoria and Avondale. A mere bottle of water can be a life-changing gift, and it only costs a few dollars—what a great way to make a positive difference in someone's life!
You can donate bottled water or money to the Phoenix Rescue Mission, too. This Arizona organization provides assistance and basic necessities to those in our community dealing with homelessness, addiction, and even trauma. They're often caught in our triple-digit weather without proper protection or hydration! Your donation of bottled water provides lifesaving hydration for Phoenix men, women, and children simply trying to survive the season. Visit Phoenix Rescue Mission's website to learn how you can get involved or where to bring your donation.
Be responsible with your own water use. Water is a finite resource—it's our duty to make sure there's enough to go around. Consider cutting back on watering your lawn, or water it in the early morning or evening hours when it's cooler. Try turning off the water whenever possible—not having it run while you brush your teeth or wash dishes. Simple moves like this are easy to incorporate into your daily routine and contribute to conservation efforts. Plus, you'll likely save a little on your monthly bill—win-win!
However you participate in conservation and hydration efforts this summer, your community thanks you for your efforts. You make the Arizona summer much cooler.