Why choose Larry H. Miller Chrysler Jeep Dodge Ram Dealership for maintenance and repairs?
If you plan on keeping your vehicle awhile, it's essential that you stay up with service. And deciding which auto mechanic you want to work on your baby can be a difficult decision.
The first thing you need to decide is whether you're going to take it to a dealership or a mom and pop shop. There are some advantages to both. Local shops tend to be within a stone's throw from your home or work. And they sometimes give you a cheaper quote than a dealership. But are they going to do the job right? Are they going to fix and charge you for things that may not be need it? Are they going to get it right the first time?
Car dealerships have this bad rap of being more expensive. With Larry H. Miller Chrysler Jeep Dodge Ram Surprise that is not the case. Not only that, with a 1 Year Prepaid Maintenance Plan you get all this:
---
Total Care Auto Prepaid 1 Year Maintenance Plan
3 Oil Changes
3 Tire Rotations
3 Car Washes
3 Multi-Point Inspections
All for $90
3 oil changes alone would cost that elsewhere.
---
At Larry H. Miller Chrysler Jeep Dodge Ram Surprise we do the work right the first time. Something you probably won't get from your local Peoria mechanic shop. We use the latest diagnostic and repair tools around. Our highly skilled technicians use the latest equipment, Chrysler certified tools, and genuine FCA parts to deliver the finest quality vehicle attention available.
Parts and service is open everyday, but Sunday. Our new Express Lane Service just extended their hours and are now open until 8pm Monday through Friday! Our Express Lane Service is unique in that you don't need an appointment for certain services like:
---
Express Lane Service
Oil Changes
Tires
Batteries
Multi-Point Inspections
---
Need to be somewhere? We have a free shuttle that will take you to work, home anywhere near by. If your repairs require a longer vehicle stay, we offer excellent rentals car options. Much more convenient and cheaper than your typical rental car place. And if you live close by, we'll even come pick up your vehicle and drop it off when it's done, for specific repairs.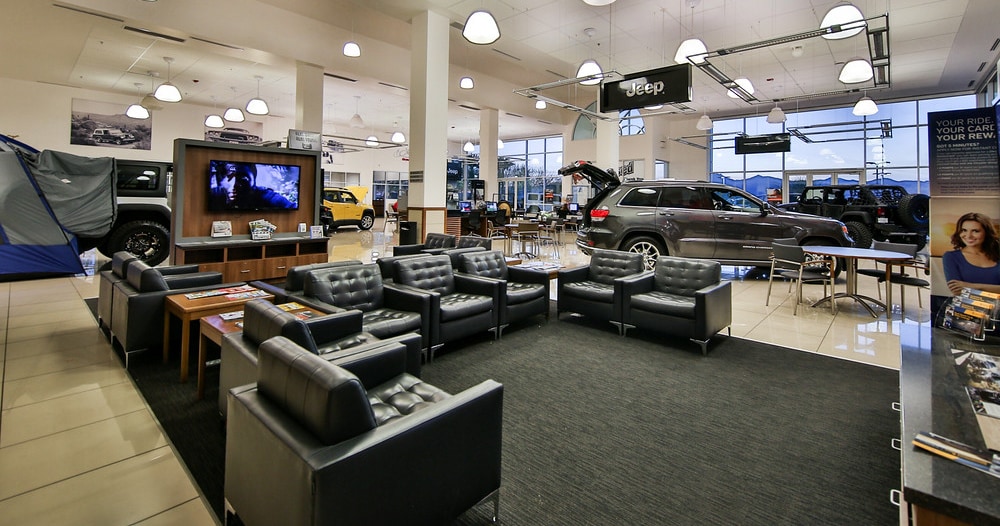 If you want to wait around while our technicians work on your car, we have a clean waiting room, free Wi-Fi, a huge TV, free bottled water, coffee, snacks and more! If you do decide to stay, make sure you look around our parts department for great deals on Yeti products like coolers and cups. Along with all kinds of great stuff.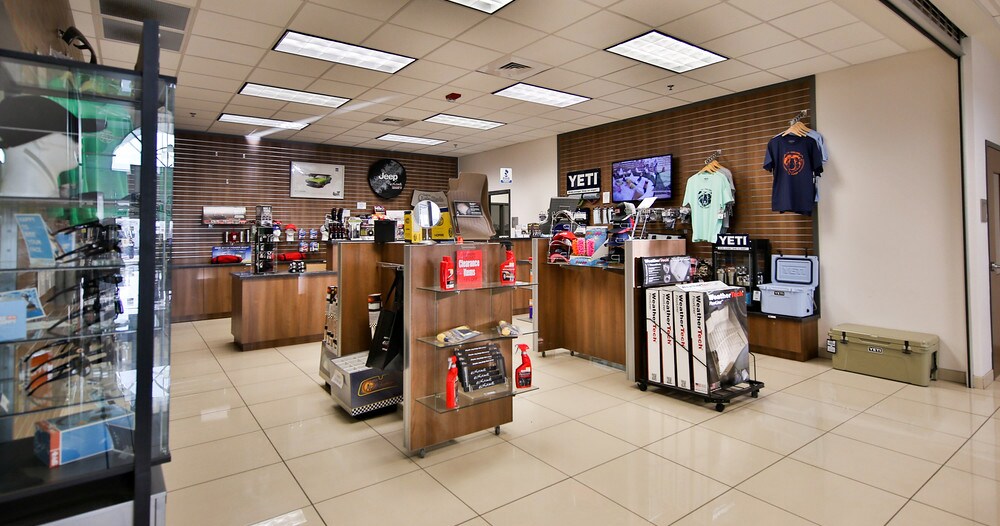 The most important things to consider are your time and what the job costs. Our technicians are specially trained to work on Chrysler Jeep Dodge and Rams by the OEM. Not only that, but the entire parts and service staff is continually trained to be the most familiar with your make and model of Chrysler, Jeep, Dodge and Ram. They are also certified to work on most makes and models. So don't let that stop you from coming in.
Something else you won't normally get from your average local Peoria mechanic shop is a warranty on labor and parts. All the work done at Chrysler Jeep Dodge Ram Surprise is guaranteed and warrantied so you have nothing to worry about should a problem arise.
Customer satisfaction is key to every great business and even more important when working on cars. We hold our staff of mechanics and service professionals to a much higher standard than your average local mechanic shop in Peoria or anywhere in Arizona, really. If your mind is not made up yet, please take a look at our reviews and see how we do service and repair here at Larry H. Miller Chrysler Jeep Dodge Ram Surprise. We are top ranked by Chrysler and our great customers.
When you decide on Larry H. Miller Chrysler Jeep Dodge Surprise for your service or repair, you will always get a free multi-point inspection along with your car returned clean with a complimentary car wash.
Each service or repair need is different. That's why understand the importance to take the time to listen to your concerns and execute properly. For your convenience, you can schedule your service appointment online or just give us a call at: (888) 271-3467
Surprise Service Hours
Monday

07:00AM - 06:00PM

Tuesday

07:00AM - 06:00PM

Wednesday

07:00AM - 06:00PM

Thursday

Closed

Friday

07:00AM - 06:00PM

Saturday

07:00AM - 04:00PM

Sunday

Closed